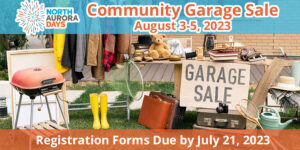 The Village's annual Community Garage Sale will be held from Thursday, August 3 — Saturday, August 5. Residents can participate in all three days or any number of their choosing and those days will be notated on the map. The recommended hours of operation are from 9:00 am – 3:00 pm; however, residents may choose whatever hours work best for them.
The event will be advertised on the Village and North Aurora Days websites and Facebook pages with a Garage Sale Map made available prior to the event.
The registration form is *required* to participate and is due no later than Friday, July 21, at 4:30 p.m. All entries that are submitted via email will receive a confirmation of registration within two business days; if you do not receive such please follow up with the Village.