WE'RE LOOKING FOR VOLUNTEERS TO JOIN THE
NORTH AURORA EMERGENCY MANAGEMENT AGENCY
We're looking for good people to join our team of emergency response volunteers.  No previous training or experience is needed; just some time, dedication, and the desire to learn and be a part of a team.  If you like the outdoors, have a sense of adventure, a desire to help others, and are interested in learning more about public safety, then this opportunity could be for you!
WHO WE ARE AND WHAT WE DO
The foundation of the North Aurora Emergency Management Agency is its volunteers, without whom we could not exist!  Most of our volunteers work at full-time jobs, some are retired, and some have families.  We have people that work in information technology, retail, automotive, doctors, lawyers, teachers, security, and more!  Our volunteers work alongside police officers, firefighters and other public safety agencies.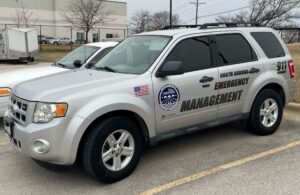 The North Aurora Emergency Management Agency consists of four divisions:
Field Services Division – oversees all of the agency's response capabilities including maintaining the agency's vehicles, trailers, generators, and field equipment. Functions include traffic control, crowd control, severe weather spotting, scene lighting and community damage assessment. The members of this division respond to emergency and non-emergency requests for assistance from county and municipal agencies and departments.
Search & Rescue Division – coordinates the agency's search & rescue team. Members of this division respond to search and rescue incidents in Kane County and lEMA Regions 3 and 4 and Winnebago, Ogle, and Lee Counties or as authorized by the Coordinator.
Community Outreach Division – oversees public preparedness education, including the Community Emergency Response Team (CERT) classes and Disaster Preparedness classes for adults and children. Members of this Division take a lead role in public education events.
Training Division – provides the orientation training for all new members of the EMA and is responsible for the development of the agency's continuing education program provided to all EMA members. The Training Division also coordinates with Kane County Office of Emergency Management on regional training for county and municipal emergency management volunteers in the County.
NEW MEMBER TRAINING
Upon acceptance, new members receive training in the following topics:
First Aid & CPR
Bloodborne Pathogens
Disaster Preparedness
Severe Weather Spotting
Damage Assessment
Traffic Control
Radio Communications
Hazardous Materials Awareness
Emergency Vehicle Operations
Search and Rescue Awareness
Team training is typically held on the 3rd Tuesday of each month, approximately 10 times per year.  Many more training opportunities are available both through online and in-person settings!
VOLUNTEER REQUIREMENTS
To be eligible, applicants must meet the following requirements:
Be a minimum of 18 years old
Reside within 10 miles of North Aurora
Be a high school graduate or have a GED
Have a valid drivers license and vehicle insurance
Pass a fingerprint-based background check
Upon acceptance, volunteers are asked to volunteer a minimum of 40 hours per year, including training and callouts, respond to at least two unplanned and two planned events per year, and attend six training classes per year.
To apply, complete and turn in the application available here.  For more information, contact Emergency Management Coordinator Joseph Gorski at (630) 897-8705, ext. 753 or jgorski@northaurora.org.