🔵🟠🟤 𝗡𝗢𝗥𝗧𝗛 𝗔𝗨𝗥𝗢𝗥𝗔 𝗗𝗔𝗬𝗦 𝟮𝟬𝟮𝟮 𝗜𝗡𝗙𝗢𝗥𝗠𝗔𝗧𝗜𝗢𝗡 🔵🟠🟤
𝗘𝗩𝗘𝗡𝗧 𝗦𝗖𝗛𝗘𝗗𝗨𝗟𝗘
𝙁𝙧𝙞𝙙𝙖𝙮, 𝘼𝙪𝙜𝙪𝙨𝙩 5, 2022
Free Hearing and Retinal Screenings: Friday, August 5, 12 pm— 4pm (Messenger Public Library)
𝙁𝙧𝙞𝙙𝙖𝙮, 𝘼𝙪𝙜𝙪𝙨𝙩 5, 2022 (5:00 𝙥𝙢 — 11:00 𝙥𝙢)
𝐴𝐿𝐿 𝑒𝑣𝑒𝑛𝑡𝑠 𝑎𝑡 𝑁𝑜𝑟𝑡ℎ 𝐴𝑢𝑟𝑜𝑟𝑎 𝑅𝑖𝑣𝑒𝑟𝑓𝑟𝑜𝑛𝑡 𝑃𝑎𝑟𝑘
Food Vendors: 5:00 pm—11:00 pm
Beer & Wine Tent: 5:00 pm—11:00 pm
𝗕𝗮𝗻𝗱𝘀: The Jolly Ringwalds: 5:30pm—7:30pm | Whiskey Romance: 8:30pm—11:00pm
Free Face Painting and Balloon Art: 5:00 pm—8:00 pm
Sponsorship Tables: 5:00 pm—11:00 pm
🔵🟠🟤
𝙎𝙖𝙩𝙪𝙧𝙙𝙖𝙮, 𝘼𝙪𝙜𝙪𝙨𝙩 6, 2022 (3:00 𝙥𝙢 — 11:00 𝙥𝙢)
𝘍𝘖𝘓𝘓𝘖𝘞𝘐𝘕𝘎 𝘦𝘷𝘦𝘯𝘵𝘴 𝘢𝘵 𝘕𝘰𝘳𝘵𝘩 𝘈𝘶𝘳𝘰𝘳𝘢 𝘙𝘪𝘷𝘦𝘳𝘧𝘳𝘰𝘯𝘵 𝘗𝘢𝘳𝘬
Food Vendors: 3:00 pm—11:00 pm
Beer & Wine Tent: 3:00 pm—11:00 pm
𝗕𝗮𝗻𝗱𝘀: Second Hand Soul Band: 5:30pm—7:30pm | Hello Weekend: 8:30pm—11:00pm
Free Face Painting and Balloon Art: 3:00 pm—8:00 pm
Messenger Library sponsored Children's Storytime and Show Featuring Ralph Covert of "Ralph's World" and "TV Treehouse": 3:00 pm—4:30 pm
Announcement of Scavenger Hunt Winners: 4:45 pm
Frankie the Dinosaur: 5:00 pm – 6:00 pm
Sponsorship Tables: 5:00 pm—11:00 pm
🔵🟠🟤
𝘍𝘖𝘓𝘓𝘖𝘞𝘐𝘕𝘎 𝘦𝘷𝘦𝘯𝘵𝘴 𝘵𝘩𝘳𝘰𝘶𝘨𝘩𝘰𝘶𝘵 𝘕𝘰𝘳𝘵𝘩 𝘈𝘶𝘳𝘰𝘳𝘢 𝘤𝘰𝘮𝘮𝘶𝘯𝘪𝘵𝘺
Community Garage Sale: Thursday, August 4—Saturday, August 6
Old Second Bank Shredding Event: Saturday, August 6, 9 am—11 am (200 W. John St.)
Touch-a-Truck / Safety Day: Saturday, August 6, 10 am—2 pm (Mooseheart)
Softball Tournament: Saturday, August 6, 8am—3pm, Fearn Park
School District 129 Sponsored Bags Tournament: Saturday, August 6, 9am—11am (Goodwin Elementary School)
Fishing Derby: Saturday, August 6, 9am—10:30am. On-Site registration at 8am. (Willow Lake)
🔵🟠🟤 🔵🟠🟤 🔵🟠🟤
𝗣𝗔𝗥𝗞𝗜𝗡𝗚 𝗜𝗡𝗙𝗢𝗥𝗠𝗔𝗧𝗜𝗢𝗡
Please see the map below for all public parking locations.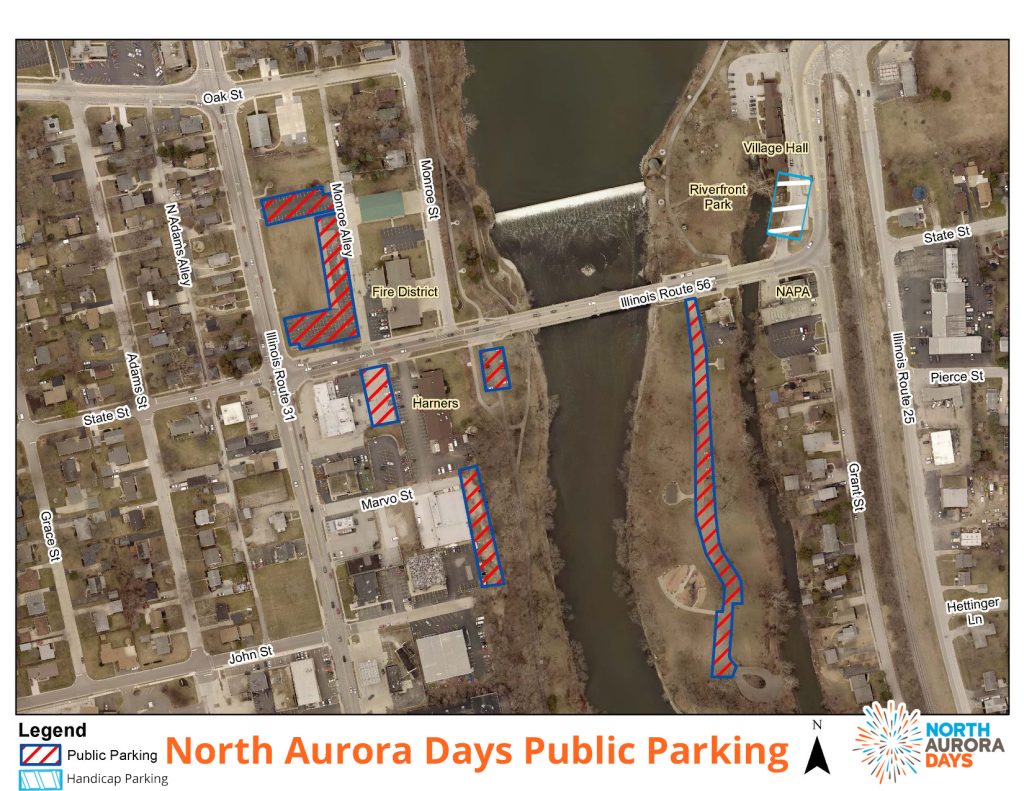 🔵🟠🟤 🔵🟠🟤 🔵🟠🟤
𝗦𝗛𝗨𝗧𝗧𝗟𝗘 𝗜𝗡𝗙𝗢𝗥𝗠𝗔𝗧𝗜𝗢𝗡
The Village of North Aurora will be providing FREE shuttles to off-site parking locations during the event.
Free shuttles will be running from 5pm – midnight on both Friday, August 5 and Saturday, August 6 from the below locations.
Shuttles will drop off at North Aurora Riverfront Park. Shuttles will be running about every ~15-20 minutes at each stop. Both shuttles are equipped for wheelchair access.
The locations are:
🟠East Side Shuttle Pick Up / Drop Off Location: Schneider Elementary School
🔵West Side Shuttle Pick Up / Drop Off Location: Jewel Middle School
When RETURNING to either Schneider Elementary School or Jewel Middle School from North Aurora Riverfront Park, please pay attention to the shuttle drop off signs. Those wishing to return to Schneider Elementary School will board a shuttle at the stop on the SOUTH SIDE of State Street and those wishing to return to Jewel Middle School will board a shuttle at the stop on the NORTH SIDE (North Aurora Riverfront Park side) of State Street.
In the event you accidentally board the wrong shuttle the shuttles will loop back; please remain on the shuttle to reach your destination.
🔵🟠🟤 🔵🟠🟤 🔵🟠🟤
𝗙𝗢𝗢𝗗 𝗩𝗘𝗡𝗗𝗢𝗥𝗦
RS Concessions
Menu: Italian Ice | Pretzels | Nachos | Lemonade and Water
Juquilita Tacos
Menu: Tacos | Quesadillas
Suzie's Fun Foods
Menu: Funnel Cake | Deep Fried Snickers, Twinkies, Oreos and PB&J | Footlong Corndog | Hotdog | Chicken Strips | Cheddar Curds | Mozzarella Sticks | Toasted Ravioli | Deep Fried Pickles | Onion Rings | Texas Style Cheese Fries Bucket | Lemonade and Water
Mario's Pizza / Salt Creek BBQ
Menu: Texas Nachos | Jumbo Turkey Legs | Pulled Pork | Fries | Cheese Fries | Sweet Potato Fries | BNIS Rib Sandwich | Pizza Slices | Mozzarella Sticks | Chicken Fingers | Lemonade Shakeup | Pop and Water
Georgie's Hot Dogs
Menu: Chicago Hot Dogs | Rice and Beans | Chicago Polish Sausage | Tamales | French Fries
Foxy's Ice Cream
Menu: Ice Cream Sundaes | Ice Cream Sandwiches | Root Beer Floats
🔵🟠🟤 🔵🟠🟤 🔵🟠🟤
𝗕𝗘𝗘𝗥 𝗧𝗘𝗡𝗧
The North Aurora Lions Club and Mothers Club will be running the Beer Tent! 𝙉𝙊 𝙊𝙐𝙏𝙎𝙄𝘿𝙀 𝘼𝙇𝘾𝙊𝙃𝙊𝙇 𝙄𝙎 𝘼𝙇𝙇𝙊𝙒𝙀𝘿!
🔵🟠🟤 🔵🟠🟤 🔵🟠🟤
𝗕𝗘𝗦𝗧 𝗦𝗔𝗙𝗘𝗧𝗬 𝗣𝗥𝗔𝗖𝗧𝗜𝗖𝗘𝗦
In an effort to make sure all of our residents and the North Aurora community have a safe and fun time at North Aurora Days 2022, please be advised that North Aurora Police officers at their discretion may check bags, coolers, carry-in items, etc.
North Aurora Police officers will be stationed throughout the event at North Aurora Riverfront Park and also at the Village tent set up near Village Hall (where there will also be first aid and North Aurora Fire District personnel on hand for medical matters).
Thank you for helping to make North Aurora Days 2022 a safe and fun event for all!
https://www.northauroradays.org/