Starting on June 1, 2021, the Village will be switching to Groot for waste hauler services from Waste Management.
Please see the informational booklet below for information on this switch.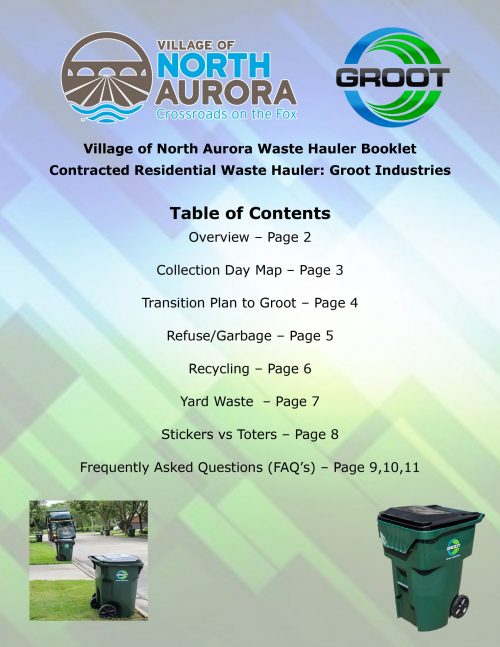 Until May 31, 2021, the Village will be contracted with Waste Management  to provide a comprehensive solid waste program designed to encourage recycling and waste reduction and to be sure that waste is disposed of in an environmentally responsible manner.
Household refuse is collected between 6:00 a.m. and 6:00 p.m. on Fridays (the scheduled collection day for all North Aurora residents). Separate trucks run on different schedules for the pick-up of refuse, recycling, and yard waste.
Items for collection may be placed at the curb after 3:00 p.m. on the day before your scheduled pick-up. Residents must remove containers from the curb by midnight of the day of collection.
All containers and bags, excluding recycling containers, must have a proper sticker attached for collection. Trash stickers are available at local retailers as well as the North Aurora Village Hall. Please view the right-hand sidebar for a list of locations. Trash stickers cost $4.03 per sticker.
Additionally, residents have the option to rent a 96 gallon refuse cart for $$24.57 per month, paid to Waste Management.  This cart service is a rental directly through Waste Management and no stickers are required, except for any trash/refuse outside of the cart.  Please contact Waste Management at 800-796-9696 for refuse cart rental information.
Recycling
Each residence in North Aurora has been provided with a Recycling Toter from Waste Management. As new homes are built and occupied, the new homeowners will be furnished one 64-gallon recycling cart at no charge. Stickers are NOT required on recycling containers. Please see the Waste Management Guidelines for Recycling preparation information and acceptable materials.  Accepted items include: plastic bottles and containers, food and beverage cans, paper, flattened cardboard and paperboard and food/beverage cartons. All items should be cleaned/rinsed and free of any water or food residue.
Waste Management also reminds residents to Recycle Right, Recyle Often –  by clicking this link residents can find helpful information on the proper way to recycle items and to make recycling sustainable for future generations.  Certain items, such as plastic bags, food residue on items (such as pizza boxes), or styrofoam cups/containers can contaminate the recycling process, or ruin the entire load.
Yard Waste
The yard waste collection runs from April 1st through November 30th (the first collection day in April to the last collection day in November). Grass clippings, brush, plant materials (no dirt) require a yard waste sticker for disposal. Yard waste should be disposed of in either a 33 gallon biodegradable brown paper bag or cans clearly marked "yard waste" and should not exceed 50 lbs. Brush should be bundled in bundles no longer than 4 ft. and no heavier than 50 lbs. and all yard waste requires a sticker on each bag, can or bundle.
Free Leaf Collection
Leaves placed in 33 gallon brown paper bags will be picked up for free (no stickers required) during the free leaf collection between October 1st and November 30th.  Curbside leaf collection is held during October and November and residents should check the Village's website homepage and newsletter for current pick-up schedules.
Spring and Fall Clean Up Days
The Village of North Aurora offers a Spring and Fall clean up day each year. Dates are posted on the Village's website and printed in the Village's newsletter. These special pick up days are for bulk items and regular trash and yard waste requires stickers as usual.
Waste Management Holiday Pick-Up Information
During weeks that have a recognized holiday, all refuse, yard-waste and recycling collection services will be delayed one day. This will result in trash collection on Saturday for your regular Friday pick-up.
The following Waste Management recognized Holidays are:  
New Year's Day
Memorial Day
Independence Day
Labor Day
Thanksgiving Day
Christmas Day
Kane County Recycling Guide
The Kane County Electronic Recycling program includes multiple collection events throughout the county for residents. Please note, there will be a fee to recycle TVs and computer monitors – both tube and flat screen for all drop-off locations.  For more information on all Kane County Recycling, including hazardous waste, electronics and more, visit the Kane County Recycling Website at Kane County Recycling. View the Kane County Recycling Guide.
Waste Management Information