North Aurora Police Department
Seeking Entry-level Police Officer Applicants
1/26/2022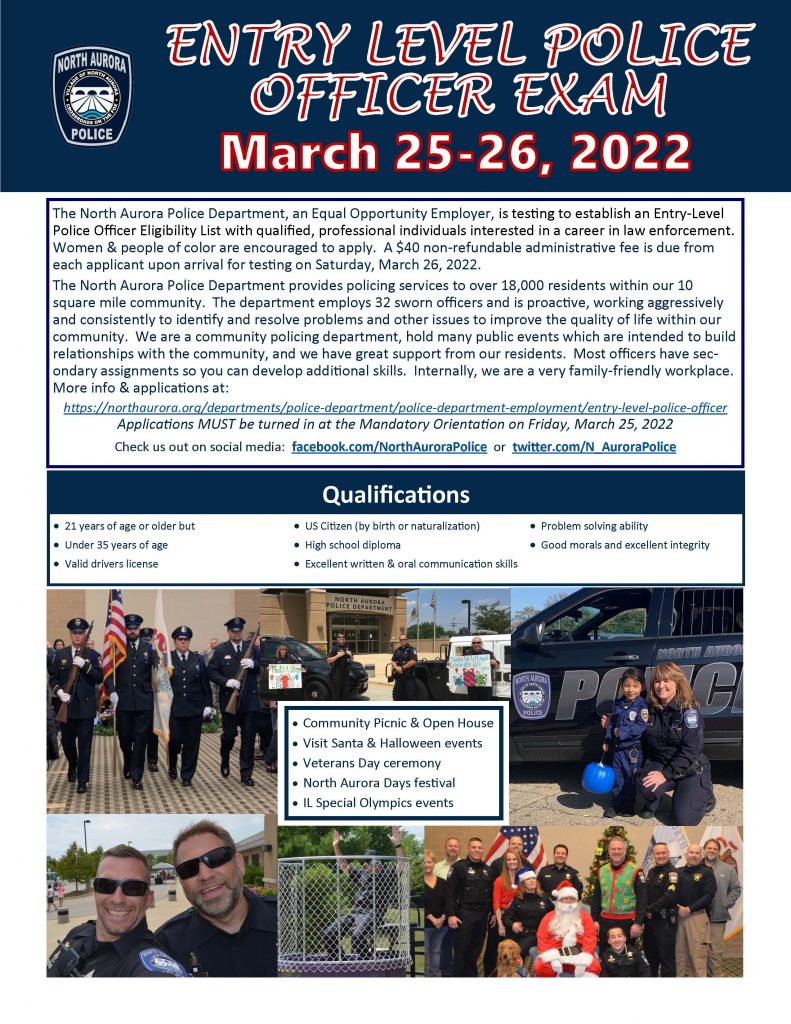 The North Aurora Police Department, an Equal Opportunity Employer, is testing to establish an Entry-Level Police Officer Eligibility List with qualified, professional individuals interested in a career in law enforcement.  Women & people of color are encouraged to apply.
The North Aurora Police Department provides policing services to over 18,000 residents within our 10 square mile community.  The department employs 32 sworn officers and is proactive, working aggressively and consistently to identify and resolve problems and other issues to improve the quality of life within our community.  We are a community policing department, hold many public events which are intended to build relationships with the community, and we have great support from our residents.  Most officers have secondary assignments so you can develop additional skills.  Internally, we are a very family-friendly workplace.
Our staffing includes a chief of police, 2 deputy chiefs, 5 sergeants, 20 patrol officers, 1 crime prevention officer, 2 investigators, 1 investigator/school resource officer, and 2 full-time & 1 part-time records specialists.  Most officers have secondary assignments so you can develop additional skills.  Our patrol officers are not "just a patrol officer;" they are also firearms, taser, & defensive tactics instructors.  They are evidence techs, field training officers, SWAT team members, crisis intervention team members, and more!  See the linked flyer below for more secondary assignments that are available.  View the full informational flyer here (or above).
If you are currently an experienced Illinois state, county, or municipal police officer looking for a lateral transfer position, go to https://northaurora.org/departments/police-department/police-department-employment/ for more info and to apply.  This opportunity is for entry level applicants who are not currently police officers or those who have less than two years experience.
North Aurora Offers:
Starting salary of $68,272. Step increases each anniversary.  Top pay is $94,786 (Step 8) after seven years;
Cost of living updates each June 1st (as per union contract).
Health, dental, vision, life insurance plans, retirement savings, pension plan;
Patrol works 12 hour shifts with every other Friday, Saturday & Sunday off.
State of the art police station with onsite firearms range & workout room
Ford Explorer squad cars with up to date equipment—laptops, radars, in-car cameras, electronic ticketing & crash reporting. Body worn cameras coming soon.
Patrol rifles (.223 cal) and Tasers provided.
 Qualifications:
21 years of age and under 35 years of age
Possess a valid driver's license.
Be a U.S. Citizen (by birth or naturalization)
High school diploma
Excellent written & oral communication
Problem solving ability
Good morals & excellent integrity
Reside within a 25-mile radius of the village limits by the end of 18-month probationary period.
Candidates must be able to pass an extensive background investigation, polygraph exam, psychological exam, medical exam, and drug screening prior to getting hired.
Applications are available at the North Aurora Police Department located at 200 S. Lincolnway, North Aurora or online here.
Applications MUST be returned at the MANDATORY orientation session on Friday, March 25th, 2022 at 7:00 p.m. at Jewel Middle School, 1501 Waterford Rd., North Aurora IL.  DO NOT return applications to our station!!
At the Orientation, we will present information about our department, the hiring process, the exam, and current openings.  You are invited to bring your spouse or significant other and you may ask questions.
The written exam will be held on Saturday, March 26th at 8:00 a.m. at Jewel Middle School.  Upon arrival for the exam, applicants will be required to pay a non-refundable $40 application fee (cash or check payable to Village of North Aurora) and must show a valid government issued photo identification card.  Upon completion of the exam, applicants will be given a background investigation packet to be returned within 14 days
Applicants arriving late to any stage of the hiring process WILL NOT be admitted so don't be late.
An Equal Opportunity Employer