Join the Village for Fall Fest on the Fox, a one day festival on Saturday, September 18 from 11am – 10pm at North Aurora Riverfront Park (25 East State Street), featuring live bands, food and drinks all day long!
Band Lineup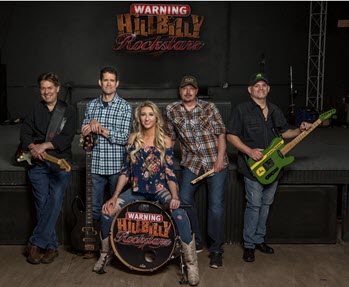 The musicians in Hillbilly Rockstarz grew up with the love of country and rock n' roll music. Each member brings a unique musical aesthetic to the band and over the years they have grown comfortable with mixing it up! Adding genres and mashing up influences from Pop, Rock and Dance combined with our high energy live music keeps our fans dancing all night long. Country music is the bands first love, however as music lovers and people pleasers they will surprise you with something for everybody!
Chicago's hottest and most engaging cover band is ripped right out of your high school yearbook pages! A fun and entertaining play on all the cliques that ruled your school, The Student Body plays all your favorite high energy party anthems!
The Moods are a singing group consisting of three guys dedicated to the fine art of harmony and choreography.   They're  known for their vocal stylings, but are equally accomplished in theater and on the big screen.   They have collectively written songs, performed and arranged background vocals for other artists and television and radio commercials.
8 pm – 10 pm: ARRA
ARRA is one of the best and largest drawing classic rock cover bands in the Chicagoland area, and has been for the past 2 decades! By performing the biggest hits by the biggest bands of all time, with precision and excellence… it has been ,and continues to be, the secret to their success.
Food Vendors
Juquilita Tacos: Tacos and quesadillas
MaMaw's Kitchen: Chicken & waffles, crazy nachos, churros, funnel cakes, chicken tenders, Italian ice, Italian beef, empanadas
Georgie's Chicago Hot Dogs: Chicago hot dogs, rice & beans, Chicago Polish sausage, tamales, French fries

Grandslam Enterprises: Ribs, rip tips, chicken, hot links, fried chicken, porkchops, mac & cheese, red beans, coleslaw, peach cobbler, banana

pudding
If you are a food vendor and would be interested in attending Fall Fest on the Fox, please call Village Hall at 630-897-8228 ext. 224.
Beer Tent
The North Aurora Lions Club and Mothers Club will be hosting a beer tent. NO OUTSIDE ALCOHOL will be allowed.
Other Activities
A face painter and balloon artist will be set up at North Aurora Riverfront Park from 12 pm – 5 pm!
Parking
Parking will be available at all public parking locations around Riverfront Park, see below map. Offsite shuttle parking will also be available, routes and locations will be posted closer to the event.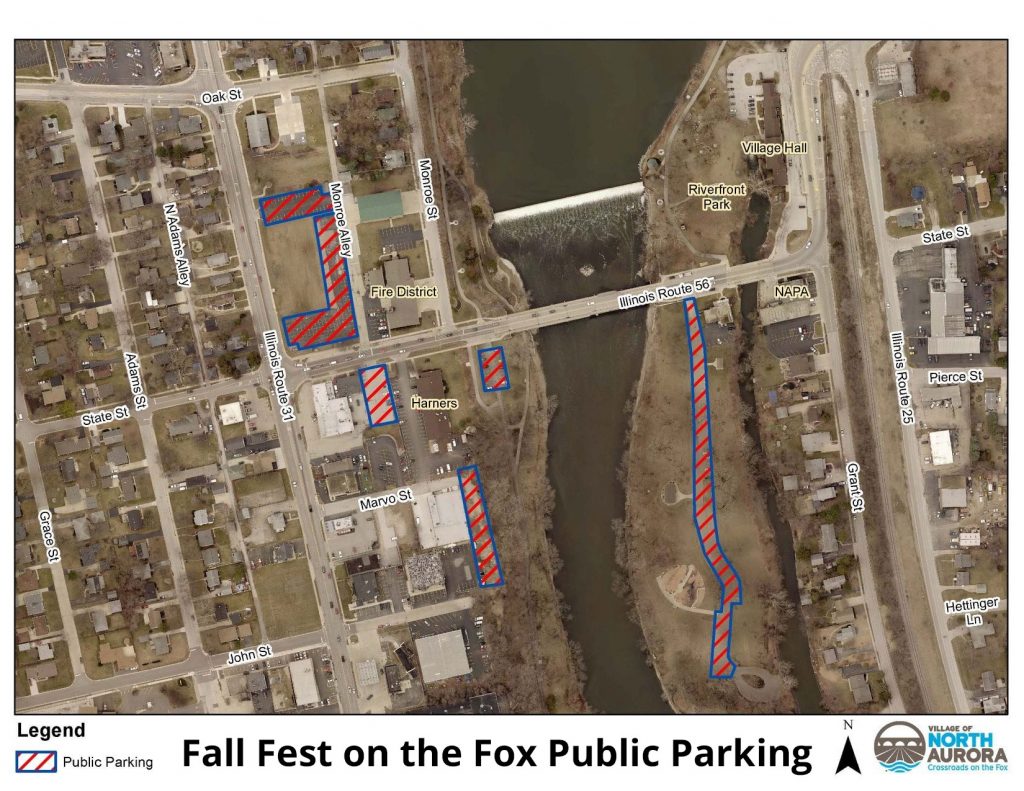 Shuttle Parking
Shuttle service will be running from 4pm – 11:00 pm during the event. The shuttles will be picking up from three locations and dropping off at Riverfront Park. The shuttle locations are:
East Side
Schneider Elementary School (204 Banbury Road)
West Side
Jewel Middle School (1051 Waterford)
Blessed Sacrament Church (801 Oak Street)
**From 4pm – 6pm parking at Blessed Sacrament Church is available only at the north lot. After 6pm vehicles can park in any lot**