After serving the Village of North Aurora community for the last couple months with tail wags and smiles, Pawfficer Indy, the Village's first comfort dog, will be retiring. Indy was unfortunately found to have a medical condition that makes him unable to continue to serve in the role of comfort dog. His new role will be beloved pet and soon-to-be couch potato as we are delighted to say that one of our officers will be adopting Indy.
And while we are sad to say goodbye to Indy, we are excited to introduce you to our new comfort dog, Pawfficer Zelda, a fellow black Labrador! This good girl has not even been at the Village for a week and is already hard at work, including her first official public appearance today at Coffee with the Cops at Asbury Gardens.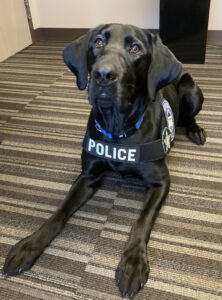 Zelda will be working alongside Officer Dave Parr and will be carrying out the duties of the comfort dog program, which include but are not limited to interaction during Police investigations to help reduce anxiety and increase communication for all those involved, to provide comfort during times of crisis or traumatic or violent incidents, and to be used to cultivate positive relationships with the community at public events.
Welcome to North Aurora, Zelda!