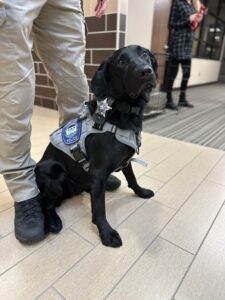 We are so very excited to introduce you to the Village's newest and first four-legged employee: Pawfficer Indy!
Indy is a Comfort Dog trained by

SIT Service Dogs

, who will be working with Officer Dave Parr to carry out the duties of the Comfort Dog Program. Those duties include but are not limited to interaction during Police investigations to help reduce anxiety and increase communication for all those involved, to provide comfort during times of crisis or traumatic or violent incidents, and to be used to cultivate positive relationships with the community at public events.
Which, speaking of, we would love to invite the community to help us welcome Indy to North Aurora! Please feel free to join us at a community open house Tuesday, December 20 from 3pm – 7pm at the North Aurora Police Department (200 South Lincolnway) to meet him.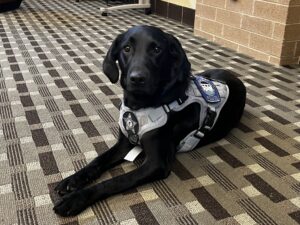 Indy will also officially be sworn in as Pawfficer at the upcoming Village Board meeting on Monday, December 19.
Welcome to North Aurora, Indy! We're so delighted to have you serve our wonderful community alongside us!