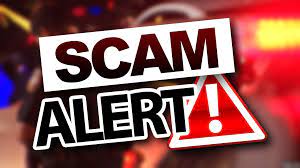 The North Aurora Police Department periodically receives reports of online, telephone, text, and email scams targeting seniors. One senior lost $300,000 to scammers who claimed to be federal agents and threatened arrest if she didn't send them bitcoin and gift cards. Another senior lost over $700,000 after being involved in an online relationship and thought she was making investments. She sent him $715,000 in cryptocurrency over six months and later learned it was a scam.
It is important to understand that legitimate government agencies, utilities, and bill collectors DO NOT take payment via bitcoin (or other crypto currencies) and they don't threaten arrest if you don't pay them. Additionally:
• Never call a phone number in a suspicious text, email, or regular mail. Instead, visit the organization's official website to find their contact information.
• If you're asked to verify credit card or bank account information in order to stop a purported fraud attempt, don't do it. You may be providing your info to scammers who will use it to scam you! Instead, only provide the last four digits. Never provide sensitive information like social security number to unverified people.
• Avoid investment opportunities that require you to pay by cryptocurrency, wire transfer, or gift card. Doing so will make it extremely hard to get your money back.
• Don't invest in something you don't understand or haven't heard of. If you are approached about an investment that is new to you, the Federal Trade Commission recommends that you search for it online along with "scam," "review," or "complaint."
RED FLAG – If they ask you to pay for anything with gift cards, cryptocurrency, or wire transfer, it is probably a scam. Also, they always claim there is a sense of urgency, so if they say it can't wait a day or two, then it is suspicious. Please ask a friend or family member if you are not sure.
If you've been targeted by a scam, report it at www.reportfraud.ftc.gov, even if you haven't lost any money. You can always call us at (630) 897-8705 and we can help you discern if the organization is legitimate.
We will be giving presentations on these types of scams (and others) and how to avoid becoming a victim. The presentations are geared toward seniors and will be held at the North Aurora Police Department. Two sessions are available: Friday, January 13th, 2023 at 10:00 a.m. and January 18th, 2023 at 6:30 p.m. Contact Officer Robyn Stecklein at (630) 897-8705, ext. 716 or rstecklein@northaurora.org to register. Space is limited so register today!